MISSING LINK OF YOUR SUPPLY CHAIN
Inventory Management System for warehouse, producers and retail
Whether you operate as a 3PL, an online retailer, or any other business running your own warehouse operations, our cloud-based Order Management Software (OMS) is designed to assist you in achieving success by streamlining the processes of picking, packing, and shipping.
Linker's order fulfillment software enhances your business growth by substantially decreasing manual tasks and errors. Automation empowers you to base your decisions on data, enabling the delivery of a more robust and steady services to your clients.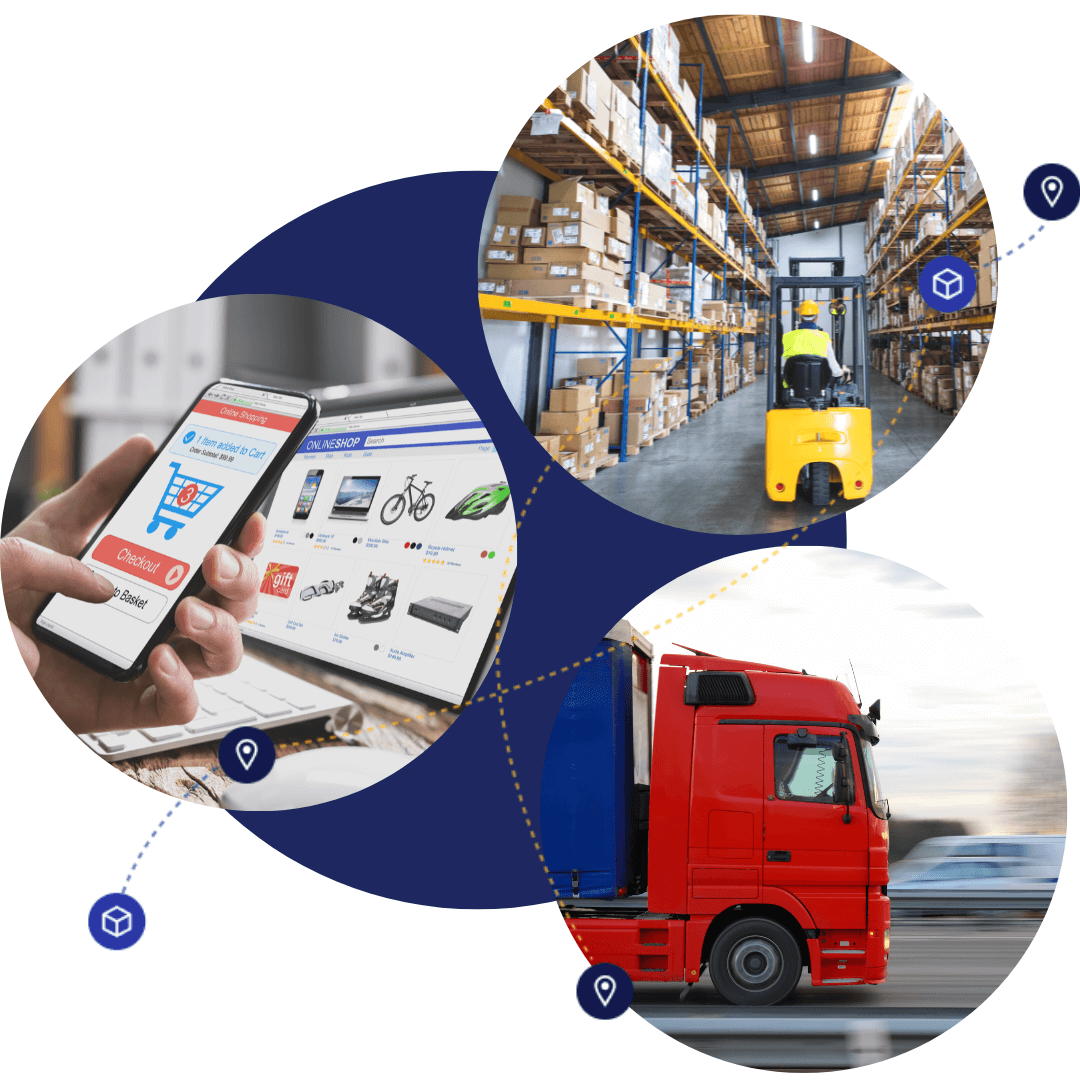 SELECTED OMS CLIENTS
Trusted by industry leaders:

5
mln
Clients
operations handled
monthly
CUSTOMERS
Who do we help:
E-commerce Brands
See all your data in one place
Improve warehouse efficiency
Improve cashflow management
Multichannel merchants
See all your data in one place
Improve warehouse efficiency
Launch new channels with ease
Producers and distributors
Integrate all your internal systems into one
Reduce operational costs
See all your data & improve warehouse efficiency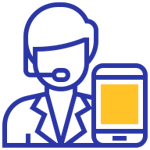 Direct to Consumer Brands
See all your data, improve warehouse efficiency
Increase flexibility of logistics processes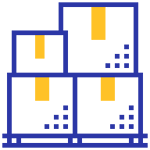 Wholesalers
Integrate all your internal systems into one
Reduce operational costs
Increase customer satisfaction & meet SLAs
Third Party Logistics (3PL)
Manage D2C customers with large order volumes with ease
Onboard customers faster
Reduce cost per order
Problems we solve - We come in where your ERP & WMS fail
Manual work
If you need to repeat same operations multiple times every day, like generating shipping labels, getting your orders from emails, updating tracking information in your e-commerce we can help automate the process, so you can focus on important work
System integrations
Not able to connect to ERP, e-commerce, courier or marketplace? Need several tools to manage your integrations? Save time by quickly connecting multiple channels with our simple user interface
Reporting & monitoring
Missing data? No visibility of the current situation? We know these problems well. With Linker, you don't have to ask your IT to get necessary data or ask around if your warehouse is able to ship all the orders today
Process automation
Need to generate invoice in your ERP and send it to your customer or maybe you need to correct it due to stock shortage? Repeating same tasks is not only cumbersome but also generates errors and confusion. Workflow automation is key to quality for your work.
One place to get it all
How often you need to check several systems to get the picture of the current situation with your orders? Was everything shipped? Does the customer have tracking information already? Linker OMS gives you perfect overview of your orders, statuses and communication between systems in your organisation
Return management
Return of your order could be very expensive. You never know if the customer's claim is valid. Was it was damaged during the shipment or maybe warehouse didn't put the right quantity? Assuring packing quality can significantly reduce cost and number of returns. With fully fledged packing station and video monitoring you can make your customer happy and satisified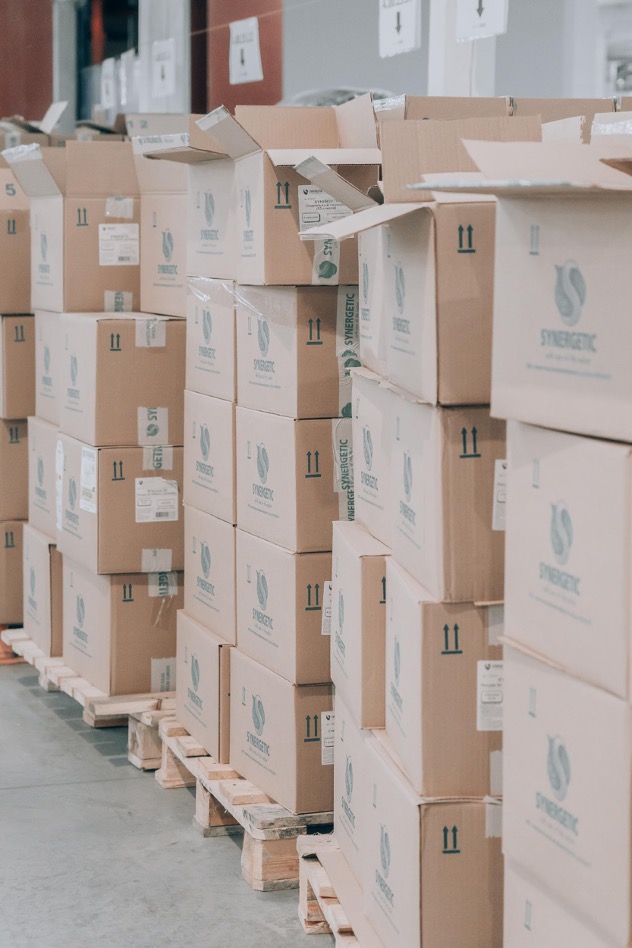 ENDLESS POSSIBILITIES
A tool tailored to your needs
By integrating sales channels, logistics operations, and courier services we help automate fulfillment processes and efficiently handle the entire sales process – including deliveries, orders, returns, and product inventories.
Our Order Management System (OMS) is dedicated to logistics operators (3PLs) of all sizes, as well as medium and large omnichannel retailers looking to optimize their eCommerce processes.
At small operators (to handle simple warehouse processes), Linker can confidently perform the functions of a WMS and be responsible for all processes related to order preparation (including handling picking), inventory, returns, and more.
With large operators (and more advanced processes), we look for weaknesses in their current processes and tailor the solution to the customer's needs.
BE FUTURE READY!
Expand your business reach
We simplify inventory scaling by providing a tool that allows you to manage goods with no code.
Linker Cloud changes the business and logistics environment for the better with specialized modules of the platform:
Integrate all of your systems into one solution
We've got hundreds of ready-to-use integrations with couriers, WMS, ERP, e-commerce platforms and marketplaces and we can add more in no time.
Integrate with marketplaces and e-commerce platforms like Amazon, eBay, Shopify, WooCommerce or Magento

Exchange data with your ERP
Enable your WMS so you can always rely on accurate stock levels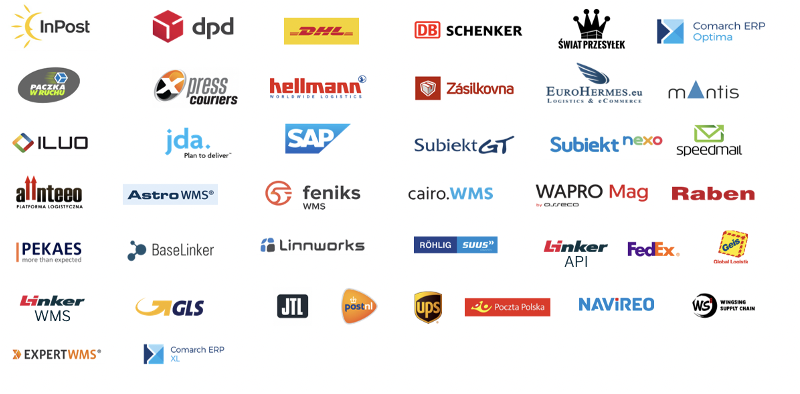 Manage your orders in one place
Ensure no order goes unnoticed through centralised processing Linker's order management software eliminates the necessity of manually monitoring incoming orders on your online stores, granting you authority over the complete process.
Track updates from the moment orders are received, until they are shipped out

Search through your full history to access details about previous orders or fulfillment status

Define your workflows with flexibility in mind with user-friendly and easy interface

Connect to warehouse management software to guarantee a quality and accuracy of order processing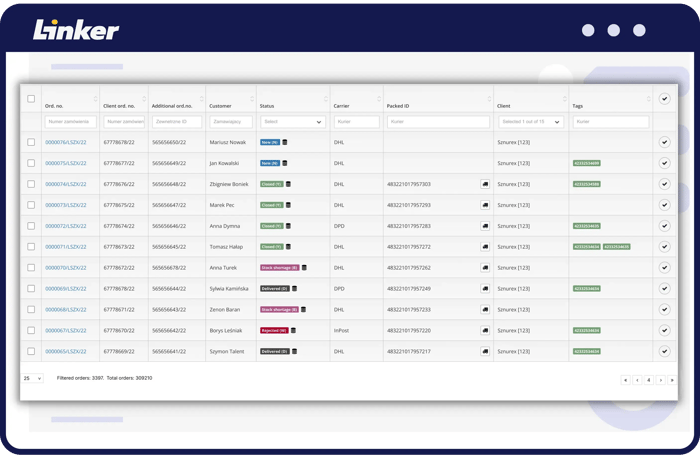 Ship your orders with full confidence
If you find yourself handling hundreds of orders every day, this process can consume a significant amount of your time.
Group orders together to improve picking productivity

Create, download, and print shipping labels from a selection of over 50 couriers

Handle backorders and stock shortages

Optimise your order picking with our warehouse management software

Batch your orders automatically by predefined rules

Improve your order quality by Linker Packing Station and Video Monitoring
Limit your cost by managing returns
Our system will let you mange return process and reduce number of complaints. You can track all the items packed and shipped by full audit log and photo and video documentation. You can always check video recording which give you confidence in minutes if there was anything wrong with the product quality, packing or shipping.
Register your returns and claims in order to track your costs and statistics
Full video and photo documentation of packing and return process using standard CCTV cameras
Use separate locations in warehouse for storing returns and damaged products
Manage your inbound orders
You will be able to fully control inbound orders. You can forget about questions about supply orders. Is it already arrived? Is our inventory updated already? Was it complete and good quality?
Register your supply orders and track status of delivery
Report damages and missing items
Make photos while taking deliveries in so you will always have accurate information with no need to run to the unloading dock
Give access to your suppliers so they could schedule delivery when ready
Improve your supply chain by full tracking of quantity and quality of your inbound orders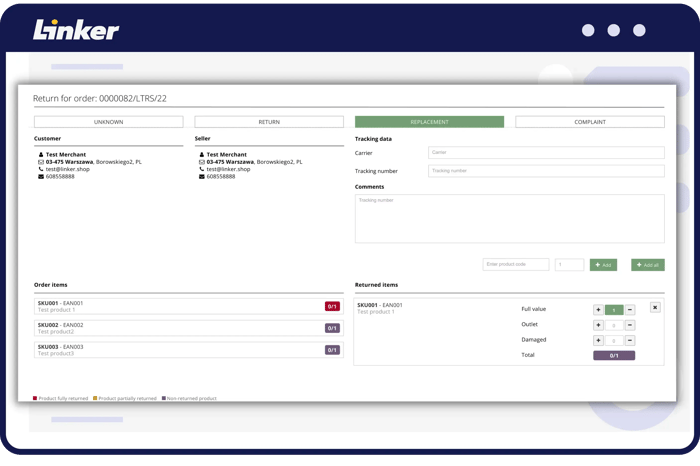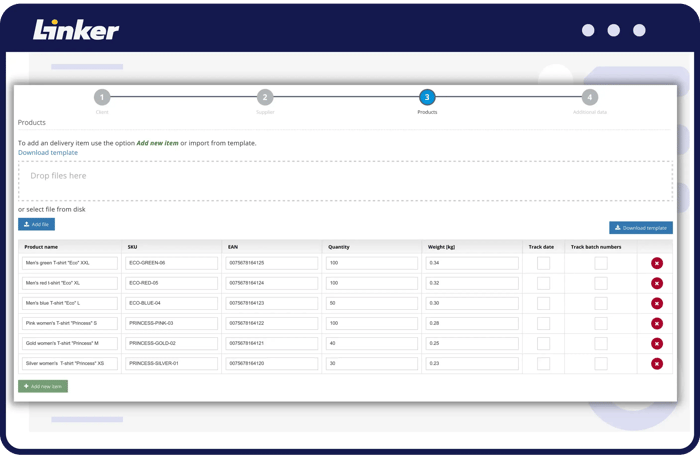 WHY LINKER?
Be one step ahead of the competition
With the best solution in class with full visibility and transparency of the processes you will master your supply chain. With us you will see your warehouse as you were there.

Set up new projects with ease
Easy setup of a project in our system will let you manage your sales channels, market or segments like B2B, B2C D2C. You can individually set up integrations, couriers or workflows with an automatic set of actions or notifications.

Give access to your partners
Using our flexible permission management you will be able to share current status with your clients or partners. They could put new orders, get the current status or check available stock. The whole app is closed in a very pleasant and intuitive design that is fully responsive on mobile devices.

Control the timeline of order fulfillment
You can fully control what is picked, packed and shipped. By defining cut-offs you can track SLA and monitor if orders have been prepared on time.

Integrate your channels
You will be able to get orders in the system in multiple ways:
Ready to use integrations
Full EDI support including AS2
The public API allows for quick integration of external systems
Manual input via User Interface
CSV import

Our priority: outstanding customer support
Customer satisfaction means so much to us that we place a strong focus on taking proper care of our clients' business needs 24/7. Our Customer Support Team is always ready to help, and Key Account Managers are available at every stage of the service provided to instruct, support, and develop new ideas.
MEET OUR CLIENTS
The effectiveness of Linker OMS confirmed by our Clients
Linker Cloud enables inventory control, optimization of warehouse paths, reporting in preview mode, and document download. Other advantages include the largest number of integrations with courier carriers, which results in extensive coverage for us as a logistics operator.
---
Thanks to Linker Cloud, we hardly experience errors during packing stages now. Also, tracking inbound and outbound orders as well as stocks now happens a lot faster and easier.
---
With Linker Cloud, we handle ecommerce orders on behalf of our customers more quickly and efficiently. Linker's integration with our WMS gives us full control over warehouse and logistics processes, and our staff now work more efficiently.
---
IN ORDER TO GROW
Software work explanation
Deliver a promise straight to your customers in less than two days thanks to modern and scalable architecture.

Reduce manual work and errors by approximately 30% and automate the processes of packaging and returns. Provide detailed reports, connect many systems, and create a transparent process (different WMS and ERP systems in different markets are not a problem)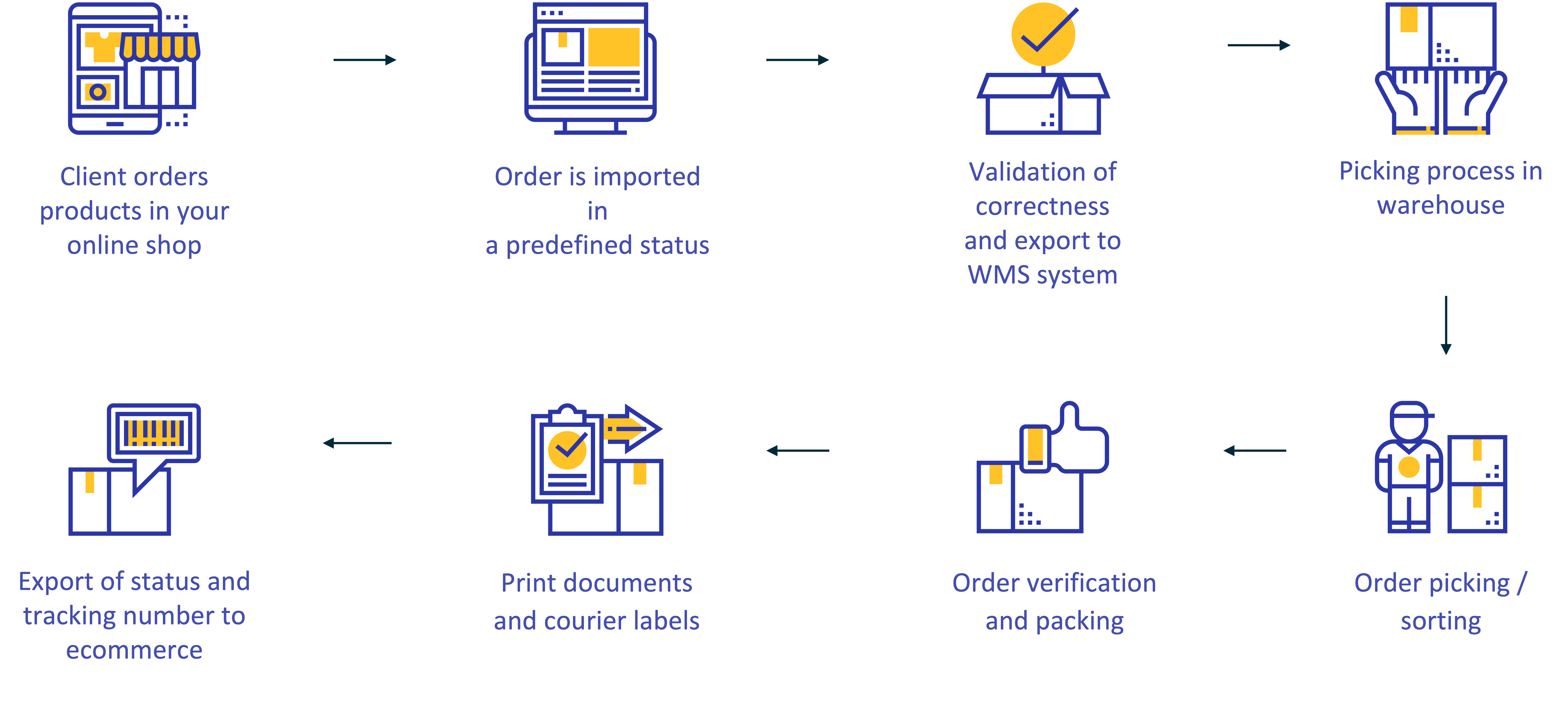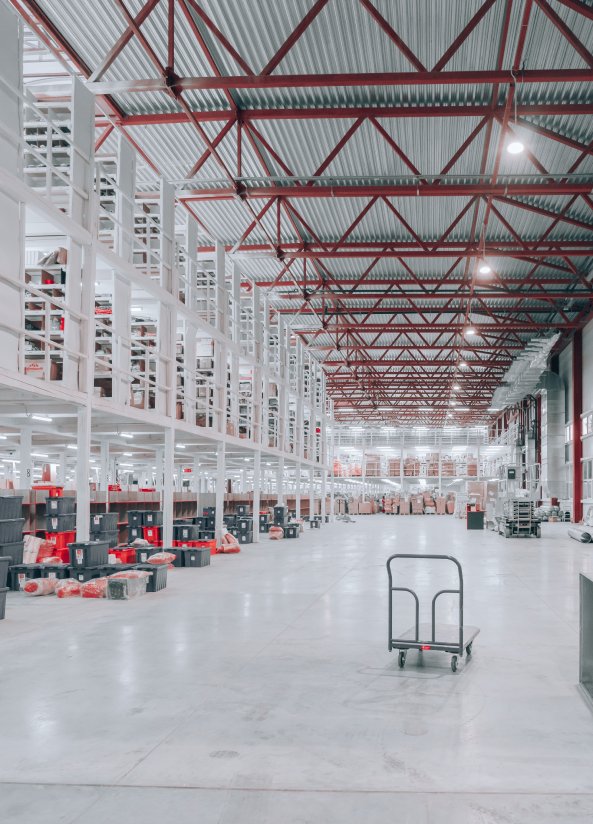 ENHANCED POSSIBILITIES
Warehouse solutions
If you are an eCommerce reseller or a 3PL company specializing in eCommerce order fulfillment, explore our Warehouse Management Cloud Application (WMS) that is part of our OMS system.
Define locations, unfold, collect in the multi-completion process, sort, relocate, and inventory – with just a few clicks of the mouse!
Our warehouse inventory management software will greatly improve your supply, order, and inventory management thanks to intelligent automation.
One package of technologies as a comprehensive platform (OMS / WMS) that allows you to centralize these processes in real time – join the Linker community now.
Ready to start selling smarter?
Find out more about our cutting-edge software: contact us and learn more about Linker's order management capabilities!